Ford Fusion: Steering Wheel / Information Display Control. Heated Steering Wheel. Horn
Information Display Control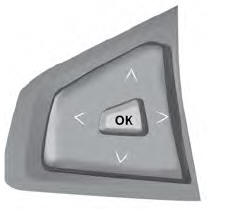 See Information Displays.
Heated Steering Wheel (IF EQUIPPED)
Switch the heated steering wheel on and off using the touchscreen.

Touch the button to switch the heated steering wheel on and off.
Note: You can use the heated steering wheel only when the engine is running.
Note: The system uses a sensor and is designed to control the temperature of the steering wheel and to prevent it from overheating.
Note: In warm temperatures, the steering wheel quickly reaches its maximum temperature and the system reduces the current to the heating element. This could cause you to think that the system has stopped working but it has not. This is normal.
Horn
Voice Control The controls are on the steering wheel. Press and release to activate voice recognition. Cruise Control - Vehicles With: Cruise Control See What Is Cruise Control...
Other information:
Washer Fluid Check WARNING: If you operate your vehicle in temperatures below 40°F (5°C), use washer fluid with antifreeze protection. Failure to use washer fluid with antifreeze protection in cold weather could result in impaired windshield vision and increase the risk of injury or accident. Add fluid to fill the reservoir if the level is low. Only use a washer fluid that meets Ford sp..
Check NOTE: Refer to the appropriate Section 303-01 for the specifications. NOTE: The cylinder bore must be within the specifications for taper and out-of-round before fitting a piston. Measure the cylinder bore in 2 directions. Select a piston size based on the cylinder bore. NOTE: For precision fit, new pistons are divided into 3 ..
Categories
WARNING: Do not adjust the steering wheel when your vehicle is moving.
Note: Make sure that you are sitting in the correct position.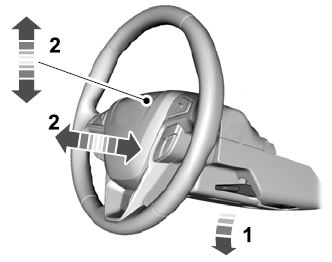 Unlock the steering column. Adjust the steering wheel to the desired position.