Ford Fusion: Steering Wheel / Information Display Control. Heated Steering Wheel. Horn
Information Display Control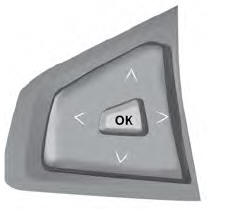 See Information Displays.
Heated Steering Wheel (IF EQUIPPED)
Switch the heated steering wheel on and off using the touchscreen.

Touch the button to switch the heated steering wheel on and off.
Note: You can use the heated steering wheel only when the engine is running.
Note: The system uses a sensor and is designed to control the temperature of the steering wheel and to prevent it from overheating.
Note: In warm temperatures, the steering wheel quickly reaches its maximum temperature and the system reduces the current to the heating element. This could cause you to think that the system has stopped working but it has not. This is normal.
Horn
Voice Control The controls are on the steering wheel. Press and release to activate voice recognition. Cruise Control - Vehicles With: Cruise Control See What Is Cruise Control...
Other information:
The power door lock control is on the driver and front passenger door panels. Unlock. Lock. Door Lock Indicator An LED on the door window trim illuminates when you lock the door. It remains illuminated for up to five minutes after you switch the ignition off. Door Lock Switch Inhibitor When you electronically lock your vehicle, the power door lock switch no longer operates after 20 seco..
WARNING: Service and handling of Pyrotechnic Components is restricted to qualified personnel. The required qualifications vary by region. Always observe local laws and legislative directives regarding Pyrotechnic Components service and handling. Failure to follow this instruction may result in serious personal injury or death. WARNING: Always carry a live airbag with t..
Categories
WARNING: Do not adjust the steering wheel when your vehicle is moving.
Note: Make sure that you are sitting in the correct position.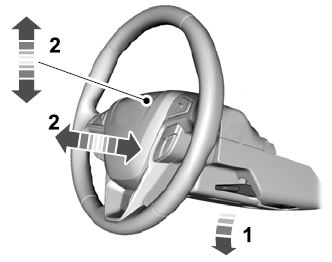 Unlock the steering column. Adjust the steering wheel to the desired position.