Ford Fusion: Fuel and Refueling / Fuel Filler Funnel Location. Running Out of Fuel
Fuel Filler Funnel Location
The fuel filler funnel is under the luggage compartment floor covering.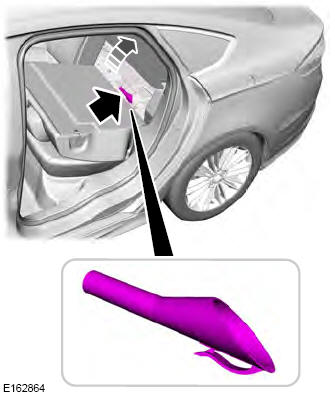 Running Out of Fuel
Running out of fuel can cause damage not covered by the vehicle Warranty.
If your vehicle runs out of fuel:
Add a minimum of 1.3 gal (5 L) of fuel to restart the engine.
You may need to switch the ignition from off to on several times after refueling to allow the fuel system to pump the fuel from the tank to the engine. When restarting, cranking time takes a few seconds longer than normal.
Note: If your vehicle is on a steep slope, more fuel may be required.
Filling a Portable Fuel Container
WARNING: Flow of fuel through a fuel pump nozzle can produce static electricity. This can cause a fire if you are filling an ungrounded fuel container.
Use the following guidelines to avoid electrostatic charge build-up, which can produce a spark, when filling an ungrounded fuel container:
Only use an approved fuel container to transfer fuel to your vehicle. Place the container on the ground when filling it.
Do not fill a fuel container when it is inside your vehicle (including the cargo area).
Keep the fuel pump nozzle in contact with the fuel container when filling it.
Do not use a device that holds the fuel pump nozzle lever in the fill position.
Adding Fuel From a Portable Fuel Container
WARNING: Do not insert the nozzle of a fuel container or an aftermarket funnel into the fuel filler neck. This may damage the fuel system filler neck or its seal and cause fuel to run onto the ground.
WARNING: Do not try to pry open or push open the capless fuel system with foreign objects. This could damage the fuel system and its seal and cause injury to you or others.
WARNING: Do not dispose of fuel in the household refuse or the public sewage system. Use an authorized waste disposal facility.
When refueling the vehicle fuel tank from a fuel container, use the fuel filler funnel included with your vehicle.
Note: Do not use aftermarket funnels as they may not work with the capless fuel system and can damage it.
When refueling the vehicle fuel tank from a fuel container, do the following:
Fully open the fuel filler door.
Fully insert the fuel filler funnel into the fuel filler inlet.

Add fuel to your vehicle from the fuel container.
Remove the fuel filler funnel.
Fully close the fuel filler door.
Clean the fuel filler funnel and place it back in your vehicle or correctly dispose of it.
Note: Extra funnels can be purchased from an authorized dealer if you choose to dispose of the funnel.
Choosing the Right Fuel Your vehicle is designed to operate on regular unleaded gasoline with a minimum pump (R+M)/2 octane rating of 87. Some fuel stations, particularly those in high altitude areas, offer fuels posted as regular unleaded gasoline with an octane rating below 87...
Other information:
WARNING: Batteries normally produce explosive gases which can cause personal injury. Therefore, do not allow flames, sparks or lighted substances to come near the battery. When working near the battery, always shield your face and protect your eyes. Always provide correct ventilation. WARNING: When lifting a plastic-cased battery, excessive pressure on the end walls could cause acid to fl..
Special Tool(s) / General Equipment Tie Rod End Remover Tie Rod Remover and Installer Boot Clamp Pliers Materials Name Specification Motorcraft® Premium Long-Life GreaseXG-1-E1 ESA-M1C75-B Removal NOTICE: When servicing inner tie rods, install a new bellows boot and clamps. The boots and clamps are designed to provide an airtight seal and protect t..