Ford Fusion: Evaporative Emissions - 1.5L EcoBoost (118kW/160PS) – I4 / Evaporative Emissions - Overview. Description and Operation
Overview
The EVAP system prevents hydrocarbon emissions from entering the atmosphere by storing fuel vapors and routing the vapors to the engine to be consumed during normal engine operation.
The EVAP system consists of:
EVAP canister
EVAP canister purge valve
EVAP canister vent solenoid
EVAP blocking valve
Fuel vapor tubes
Easy Fuel (capless) fuel tank filler pipe
System Operation Refer to the PC/ED manual section 1 Description and Operation. System Diagram Item Description 1 Valve cover 2 Turbocharger inlet pipe 3 Air cleaner (ACL) outlet pipe 4 Vapor ejector 5 Turbocharger to CAC (Charge Air Cooler) tube 6 Dual check valve 7 EVAP (Evaporative Emission) canister pur..
Other information:
Special Tool(s) / General Equipment 300-OTC1585AEPowertrain Lift 300-OTC1819E2,200# Floor Crane, Fold Away 303-1502Lifting Device EngineTKIT-2012A-FLTKIT-2012A-ROW 307-569Disconnect Tool TOC Line (1/2)TKIT-2006U-F/FMTKIT-2006U-FLM/LMTKIT-2006U-ROW1TKIT-2006U-ROW2 Strap Wrench Adjustable Mounting Arm Oil Drain Equipment Hose Clamp Remover/Installer ..
System Operation System Diagram Item Description 1 ABS 2 HS-CAN 3 Grille Shutter Actuator 4 PCM 5 LIN Active Grille Shutter The grille shutter actuator positions the grille shutters based on commands from the PCM. The grille shutter moves 90 degrees from fully closed to fully open and, based on the position commanded by the PCM, is set i..
Categories
Choosing the Right Fuel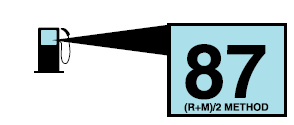 Your vehicle is designed to operate on regular unleaded gasoline with a minimum pump (R+M)/2 octane rating of 87.
Copyright © 2023 www.fofusion2.com