Ford Fusion: Evaporative Emissions - 1.5L EcoBoost (118kW/160PS) – I4 / Evaporative Emissions - Overview. Description and Operation
Overview
The EVAP system prevents hydrocarbon emissions from entering the atmosphere by storing fuel vapors and routing the vapors to the engine to be consumed during normal engine operation.
The EVAP system consists of:
EVAP canister
EVAP canister purge valve
EVAP canister vent solenoid
EVAP blocking valve
Fuel vapor tubes
Easy Fuel (capless) fuel tank filler pipe
System Operation Refer to the PC/ED manual section 1 Description and Operation. System Diagram Item Description 1 Valve cover 2 Turbocharger inlet pipe 3 Air cleaner (ACL) outlet pipe 4 Vapor ejector 5 Turbocharger to CAC (Charge Air Cooler) tube 6 Dual check valve 7 EVAP (Evaporative Emission) canister pur..
Other information:
Special Tool(s) / General Equipment Brake/Clutch System Pressure Bleeder/Filler Fluid Container Bleeding All vehicles NOTICE: If the fluid is spilled on the paintwork, the affected area must be immediately washed down with cold water. NOTE: The HCU bleeding procedure and a second brake system pressure bleed must be carried out if a new HCU has been installed. NO..
WARNING: Do not use any fluid other than the recommended brake fluid as this will reduce brake efficiency. Use of incorrect fluid could result in the loss of vehicle control, serious personal injury or death. WARNING: Only use brake fluid from a sealed container. Contamination with dirt, water, petroleum products or other materials may result in brake system damage or failure. Failure to ..
Categories
Choosing the Right Fuel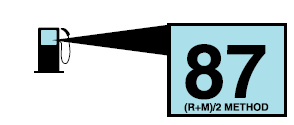 Your vehicle is designed to operate on regular unleaded gasoline with a minimum pump (R+M)/2 octane rating of 87.
Copyright © 2023 www.fofusion2.com