Ford Fusion: Engine Emission Control
Advertised Capacity The advertised capacity is the maximum amount of fuel that you can add to the fuel tank after running out of fuel. Included in the advertised capacity is an empty reserve...
WARNING: Do not remove or alter the original equipment floor covering or insulation between it and the metal floor of the vehicle. The floor covering and insulation protect occupants of the vehicle from the engine and exhaust system heat and noise...
Other information:
Lubricants, Fluids, Sealers and Adhesives Market Item Specifications US, Canada Motorcraft® R-1234yf Refrigerant PAG Oil / YN-35 WSS-M2C300-A2 Mexico Motorcraft® PAG Refrigerant Compressor Oil / YN-12-D WSH-M1C231-B US, Canada R-1234yf Refrigerant / YN-33-A (US); HS7Z-19B519-BA (Canada) WS..
Power Distribution Box WARNING: Always disconnect the battery before servicing high current fuses. WARNING: To reduce risk of electrical shock, always replace the cover to the power distribution box before reconnecting the battery or refilling fluid reservoirs. The power distribution box is in the engine compartment. It has high-current fuses that protect your vehicle's main electrical sy..
Categories
Choosing the Right Fuel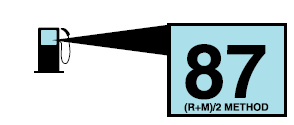 Your vehicle is designed to operate on regular unleaded gasoline with a minimum pump (R+M)/2 octane rating of 87.
Copyright © 2023 www.fofusion2.com