Ford Fusion: Climate Control System - General Information / Climate Control System - Vehicles With: Dual Automatic Temperature Control (DATC) - Component Location. Description and Operation
| Item | Description |
| --- | --- |
| 1 | Sunload Sensor |
| 2 | Passenger Side Register Air Discharge Temperature Sensor |
| 3 | Passenger Side Footwell Air Discharge Temperature Sensor |
| 4 | Heating, Ventilation, and Air Conditioning (HVAC) Module |
| 5 | In-vehicle temperature & humidity Sensor |
| 6 | Driver Side Footwell Air Discharge Temperature Sensor |
| 7 | Driver Side Register Air Discharge Temperature Sensor |
| Item | Description |
| --- | --- |
| 1 | Heater Core |
| 2 | Evaporator Temperature Sensor |
| 3 | Air Distribution Door Actuator |
| 4 | Air Distribution Door Actuating Assembly |
| 5 | Driver Side Temperature Door Actuator |
| 6 | Evaporator |
| 7 | Passenger Side Temperature Door Actuating Assembly |
| 8 | Passenger Side Temperature Door Actuator |
| 9 | Blower Motor Speed Control |
| 10 | Blower Motor |
| 11 | Air Inlet Door Actuator |
| 12 | Air Inlet Door Actuating Assembly |
| 13 | Cabin Air Filter |
| Item | Description |
| --- | --- |
| 1 | Air Conditioning (A/C) Compressor |
| 2 | Evaporator Inlet and Outlet Manifold |
| 3 | Climate Control Housing |
| 4 | Thermostatic Expansion Valve |
| 5 | Air Conditioning (A/C) Compressor Inlet Line |
| 6 | Air Conditioning (A/C) Compressor Outlet Line |
| 7 | Receiver Drier Element |
| 8 | Condenser |
| 9 | Ambient Air Temperature Sensor |
| 10 | Air Conditioning (A/C) Pressure Transducer |
| 11 | Condenser Outlet Line |
2.7L EcoBoost
| Item | Description |
| --- | --- |
| 1 | Ambient Air Temperature Sensor |
Vehicles equipped with Auto Start Stop
| Item | Description |
| --- | --- |
| 1 | Cabin Heater Coolant Pump |
| 2 | Cabin Heater Coolant Pump Inlet Hose |
| 3 | Cabin Heater Coolant Pump Outlet Hose |
Overview The Dual Automatic Temperature Control (DATC) system maintains the selected vehicle interior temperature by heating and/or cooling the air depending on the HVAC control panel selection...
Other information:
WARNING: Driving while distracted can result in loss of vehicle control, crash and injury. We strongly recommend that you use extreme caution when using any device that may take your focus off the road. Your primary responsibility is the safe operation of your vehicle...
General Specifications Vehicles with Auto-Start-Stop System Item Specification Voltage 12 V Battery amps rating 70 Ah Cold Cranking Amps (CCA) measured at -18 C (-0...
Categories
Choosing the Right Fuel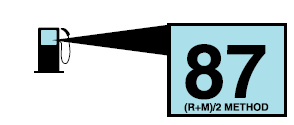 Your vehicle is designed to operate on regular unleaded gasoline with a minimum pump (R+M)/2 octane rating of 87.
Copyright © 2022 www.fofusion2.com