Ford Fusion: Climate Control System - General Information / Climate Control System - Vehicles With: Dual Automatic Temperature Control (DATC) - Component Location. Description and Operation
| Item | Description |
| --- | --- |
| 1 | Sunload Sensor |
| 2 | Passenger Side Register Air Discharge Temperature Sensor |
| 3 | Passenger Side Footwell Air Discharge Temperature Sensor |
| 4 | Heating, Ventilation, and Air Conditioning (HVAC) Module |
| 5 | In-vehicle temperature & humidity Sensor |
| 6 | Driver Side Footwell Air Discharge Temperature Sensor |
| 7 | Driver Side Register Air Discharge Temperature Sensor |
| Item | Description |
| --- | --- |
| 1 | Heater Core |
| 2 | Evaporator Temperature Sensor |
| 3 | Air Distribution Door Actuator |
| 4 | Air Distribution Door Actuating Assembly |
| 5 | Driver Side Temperature Door Actuator |
| 6 | Evaporator |
| 7 | Passenger Side Temperature Door Actuating Assembly |
| 8 | Passenger Side Temperature Door Actuator |
| 9 | Blower Motor Speed Control |
| 10 | Blower Motor |
| 11 | Air Inlet Door Actuator |
| 12 | Air Inlet Door Actuating Assembly |
| 13 | Cabin Air Filter |
| Item | Description |
| --- | --- |
| 1 | Air Conditioning (A/C) Compressor |
| 2 | Evaporator Inlet and Outlet Manifold |
| 3 | Climate Control Housing |
| 4 | Thermostatic Expansion Valve |
| 5 | Air Conditioning (A/C) Compressor Inlet Line |
| 6 | Air Conditioning (A/C) Compressor Outlet Line |
| 7 | Receiver Drier Element |
| 8 | Condenser |
| 9 | Ambient Air Temperature Sensor |
| 10 | Air Conditioning (A/C) Pressure Transducer |
| 11 | Condenser Outlet Line |
2.7L EcoBoost
| Item | Description |
| --- | --- |
| 1 | Ambient Air Temperature Sensor |
Vehicles equipped with Auto Start Stop
| Item | Description |
| --- | --- |
| 1 | Cabin Heater Coolant Pump |
| 2 | Cabin Heater Coolant Pump Inlet Hose |
| 3 | Cabin Heater Coolant Pump Outlet Hose |
Overview The Dual Automatic Temperature Control (DATC) system maintains the selected vehicle interior temperature by heating and/or cooling the air depending on the HVAC control panel selection...
Other information:
Special Tool(s) / General Equipment 300-OTC1585AEPowertrain Lift Wooden Block Removal NOTICE: Suspension fasteners are critical parts that affect the performance of vital components and systems. Failure of these fasteners may result in major service expense...
Materials Name Specification Motorcraft® MERCON® LV Automatic Transmission FluidXT-10-QLVC WSS-M2C938-AMERCON® LV, Draining With the vehicle in NEUTRAL, position it on a hoist. Refer to: Jacking and Lifting - Overview (100-02 Jacking and Lifting, Description and Operation)...
Categories
Choosing the Right Fuel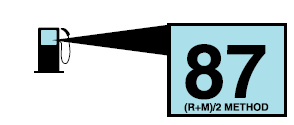 Your vehicle is designed to operate on regular unleaded gasoline with a minimum pump (R+M)/2 octane rating of 87.
Copyright © 2023 www.fofusion2.com