Ford Fusion: Maintenance / Checking the Wiper Blades. Changing the Wiper Blades
Checking the Wiper Blades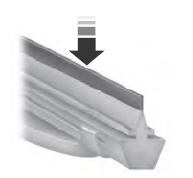 Run the tip of your fingers over the edge of the blade to check for roughness.
Clean the wiper blades with washer fluid or water applied with a soft sponge or cloth.
Changing the Wiper Blades
The wiper arms can be manually moved when the ignition is off. This allows for ease of blade replacement and cleaning under the blades.
Pull the wiper blade and arm away from the glass. Press the locking buttons together.
Rotate and remove the wiper blade.
Install in the reverse order.
Note: Make sure that the wiper blade locks into place. Lower the wiper arm and blade back to the windshield. The wiper arms will automatically return to their normal position when the ignition is turned on.
Replace wiper blades at least once per year for optimum performance.
Poor wiper quality can be improved by cleaning the wiper blades and the windshield.
WARNING: Batteries normally produce explosive gases which can cause personal injury. Therefore, do not allow flames, sparks or lighted substances to come near the battery...
Vertical Aim Adjustment The headlamps on your vehicle are properly aimed at the assembly plant. If your vehicle has been in an accident, the alignment of your headlamps should be checked by your authorized dealer...
Other information:
DTC Charts ACM DTC Chart Diagnostics in this manual assume a certain skill level and knowledge of Ford-specific diagnostic practices. REFER to: Diagnostic Methods (100-00 General Information, Description and Operation). DTC Description Action B150C:01 Automobile Audio Bus (A2B) Node 1: General Electrical Failure ..
System Diagram System Operation Network Message Chart Broadcast Message Originating Module Message Purpose Power pack torque status Secondary On-Board Diagnostic Control Module C (SOBDMC) Used to determine if the vehicle is started or if torque is available. DC/AC INVERTER AND AC POWER POINT ..