Ford Fusion: Front Disc Brake / Brake Caliper - 2.7L EcoBoost (238kW/324PS). Removal and Installation
Removal
NOTICE: Do not spill brake fluid on painted or plastic surfaces or damage to the surface may occur. If brake fluid is spilled onto a painted or plastic surface, immediately wash the surface with water.
NOTE: Removal steps in this procedure may contain installation details.
NOTICE: Brake pads with adhesive on the insulator are one-time use only. When the brake pads are separated from the brake caliper, new brake pads must be installed to prevent brake noise and shudder.

Remove and discard the front brake pads.
Refer to: Brake Pads - 2.7L EcoBoost (238kW/324PS) (206-03 Front Disc Brake, Removal and Installation).

Remove The brake caliper flow bolt, washers and the brake caliper. Discard the washers.

Installation
NOTICE: Make sure that the brake hose is not twisted when installing the brake caliper or damage to the brake flexible hose may occur.

To install, reverse the removal procedure.

Bleed the brake system.
Refer to: Brake System Pressure Bleeding (206-00 Brake System - General Information, General Procedures).

Categories
WARNING: Do not adjust the steering wheel when your vehicle is moving.
Note: Make sure that you are sitting in the correct position.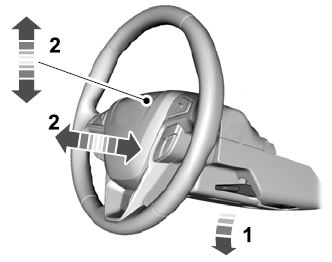 Unlock the steering column. Adjust the steering wheel to the desired position.
Copyright © 2023 www.fofusion2.com