Ford Fusion: Active Park Assist (IF EQUIPPED) / Automatically Steering into a Perpendicular Parking Space
When you shift into reverse (R), with your hands off the steering wheel and nothing obstructing its movement, your vehicle steers itself into the space. The system displays instructions to move your vehicle backward and forward in the space.
Note: If the vehicle speed exceeds approximately 6 mph (9 km/h), you interrupt the maneuver, or the system switches off, you must take full control of your vehicle.
Note: If the system detects an object is very close to your vehicle and it may be unsafe to continue the maneuver, it may instruct you to stop your vehicle. The system may not provide any further instruction. Steering assistance continues to operate but you must decide if it is safe to continue the maneuver.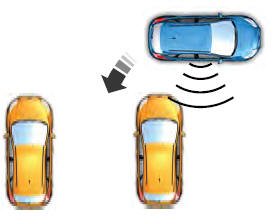 When you believe your vehicle is correctly parked, or a solid tone sounds and an information message appears, bring your vehicle to a complete stop.
When the active park assist maneuver is complete, a tone sounds and a message appears.
Note:You are responsible for checking how your vehicle is parked and making any necessary corrections before leaving your vehicle.
Deactivating Active Park Assist
You can manually deactivate the system by:
Pressing the Active Park Assist button during an active maneuver.
Grabbing the steering wheel during an active maneuver.
Driving above 19 mph (30 km/h) for 30 seconds when searching for a parking space.
Driving above 6 mph (9 km/h) during an active maneuver.
Switching the traction control system off.
Certain vehicle conditions may also deactivate the system, for example:
The traction control system activates or fails.
The anti-lock brake system activates or fails.
If the system malfunctions, a message appears and a tone sounds. Have your vehicle checked as soon as possible.
Categories
The system detects available parallel parking spaces and steers your vehicle into the space. You control the accelerator, gearshift and brakes. The system visually and audibly guides you into a parallel parking space.

Press the button once to search for a parking space.