Ford Fusion: Customer Assistance / Utilizing the Mediation/Arbitration Program (Canada Only). Getting Assistance Outside the U.S. and Canada
Utilizing the Mediation/Arbitration Program (Canada Only).
For vehicles delivered to authorized Canadian dealers. In those cases where you continue to feel that the efforts by Ford of Canada and the authorized dealer to resolve a factory-related vehicle service concern have been unsatisfactory, Ford of Canada participates in an impartial third party mediation/arbitration program administered by the Canadian Motor Vehicle Arbitration Plan (CAMVAP).
The CAMVAP program is a straight forward and relatively speedy alternative to resolve a disagreement when all other efforts to produce a settlement have failed. This procedure is without cost to you and is designed to eliminate the need for lengthy and expensive legal proceedings.
In the CAMVAP program, impartial third-party arbitrators conduct hearings at mutually convenient times and places in an informal environment. These impartial arbitrators review the positions of the parties, make decisions and, when appropriate, render awards to resolve disputes. CAMVAP decisions are fast, fair, and final as the arbitrator's award is binding on both you and Ford of Canada.
CAMVAP services are available in all Canadian territories and provinces. For more information, without charge or obligation, call your CAMVAP Provincial Administrator directly at 1-800-207-0685 or visit www.camvap.ca.
Getting Assistance Outside the U.S. and Canada
Before exporting your vehicle to a foreign country, contact the appropriate foreign embassy or consulate. These officials can inform you of local vehicle registration regulations and where to find unleaded fuel or petrol/gas engines or the proper sulfur fuel for diesel engines.
If you cannot find the proper fuel recommended for your vehicle, contact our Customer Relationship Center.
The use of improper fuels in your vehicle without proper conversion may damage the effectiveness of your emission control system and may cause engine knocking or serious engine damage. Ford Motor Company or Ford of Canada is not responsible for any damage caused by use of improper fuel. Using improper fuels may also result in difficulty importing your vehicle back into the United States.
If your vehicle must be serviced while you are traveling or living in Asia-Pacific Region, Sub-Saharan Africa, U.S. Virgin Islands and/or Puerto Rico, Central America, the Caribbean, and Israel and the Middle East, contact the nearest authorized dealer. If the authorized dealer cannot help you, contact the corresponding Ford Customer Assistance Center:
FORD MOTOR COMPANY
Customer Relationship Centers in: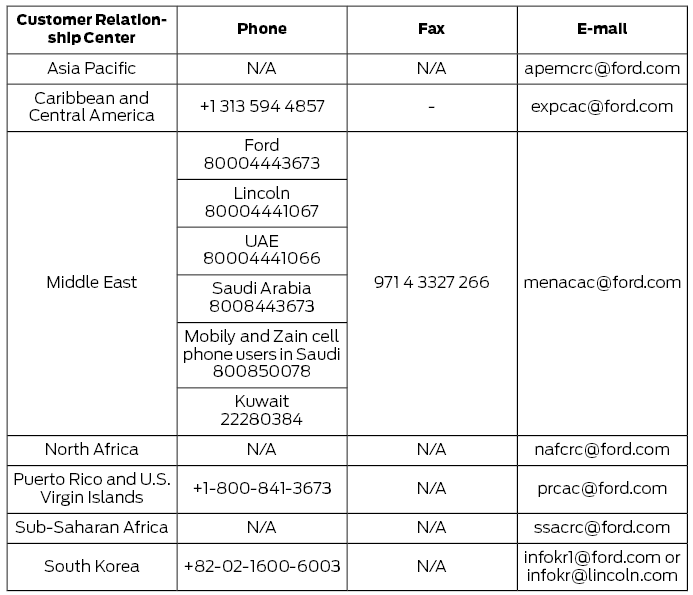 If you buy your vehicle in North America and then relocate to any of the above locations, register your vehicle identification number (VIN) and new address with Ford Global Trade Services by emailing, expcso@ford.com.
If you are in another foreign country, contact the nearest authorized dealer. In the event your inquiry is unresolved, communicate your concern with the dealership's Sales Manager, Service Manager or Customer Relations Manager. If you require additional assistance or clarification, please contact the respective Customer Relationship Center as previously listed.
Customers in the U.S. should call
1-800-392-3673.