Ford Fusion: SYNC™ / Using SYNC™ With Your Phone
Hands-free calling is one of the main features of SYNC. While the system supports a variety of features, many are dependent on your cellular phone's functionality. At a minimum, most cellular phones with Bluetooth wireless technology support the following functions:
Answering an incoming call.
Ending a call.
Dialing a number.
Redialing.
Call waiting notification.
Caller ID.
Other features, such as text messaging using Bluetooth and automatic phonebook download, are phone-dependent features.
Pairing a Phone
Wirelessly pairing your phone with SYNC allows you to make and receive hands-free calls.
Note: Make sure to switch on the ignition and the radio. Shift the transmission into park (P) for automatic transmission or first gear for manual transmission.
Using the Audio System
Note: To scroll through the menus, press the up and down arrows on your audio system.
Make sure to switch on your phone's Bluetooth feature before starting the search. See your device's manual if necessary.
Press the Settings button.
Select Bluetooth from the menu.
Press the OK button.
Select the option to add. This starts the pairing process.
When a message to begin pairing appears in the audio display, search for SYNC on your device.
Depending on your phone's capability and your market, the system may prompt you with questions, such as setting the current phone as the primary phone and downloading your phonebook.
Using Voice Commands
Make sure to switch on your phone's Bluetooth feature before starting the search. See your device's manual if necessary.
Press the voice button and when prompted say:

Phone Voice Commands

Press the voice button. You can do things like place a phone call and access text messages. When prompted, say a command. See the following table for examples of commands.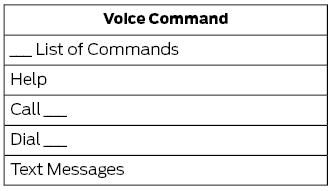 __ is a dynamic listing, meaning that it could be the name of anything, such as a contact or phone number.
Phone Controls
Use the phone buttons on your steering wheel to answer, reject, or hang up a call.
Accessing Features through the Phone Menu
You can access your call history, phonebook, sent text messages, as well as access phone and system settings.
Press the PHONE button to enter the phone menu.
Scroll through the menu to view contacts, text messages, and the phone dialer.
This system helps you control many features using voice commands. This allows you to keep your hands on the wheel and focus on what is around you. Initiating a Voice Session Press the voice button...
911 Assist: Can alert 911 in the event of an emergency. SYNC AppLink: Allows you to connect to and use certain applications (if your phone is compatible)...
Other information:
Symptom Chart(s) Symptom Chart: Universal Home Transmitter Diagnostics in this manual assume a certain skill level and knowledge of Ford-specific diagnostic practices. REFER to: Diagnostic Methods (100-00 General Information, Description and Operation)...
Remove the screws, grommets and the engine front undershield. Remove the screws and the engine undershield. ..