Ford Fusion: Brake System - General Information / Specifications
Lubricants, Fluids, Sealers and Adhesives
| | Specifications |
| --- | --- |
| Motorcraft® DOT 4 LV High Performance Motor Vehicle Brake Fluid / PM-20 | WSS-M6C65-A2 |
Torque Specifications
| Item | Nm | lb-ft | lb-in |
| --- | --- | --- | --- |
| Front caliper bleeder screw | 9 | - | 80 |
| Rear caliper bleeder screw | 8 | - | 71 |
| Master cylinder brake tube fittings | 25 | 18 | - |
General Specifications
| Item | Specification |
| --- | --- |
| Front brake disc minimum thickness | 1.043 in ( 26.5 mm) |
| Front brake disc minimum thickness (vehicles with 2.7L EcoBoost engine) | 1.201 in ( 30.5 mm) |
| Rear brake disc minimum thickness | 0.374 in ( 9.5 mm) |
| Brake pad minimum thickness | 0.118 in ( 3 mm) |
| Brake pad maximum taper wear (in any direction) | 0.118 in ( 3 mm) |
Symptom Chart(s) Symptom Chart: Brake System Diagnostics in this manual assume a certain skill level and knowledge of Ford-specific diagnostic practices...
Other information:
Removal NOTICE: During the removal or installation of components, cap, tape or otherwise appropriately protect all openings and tubes/fittings to prevent the ingress of dirt or other contamination. Remove caps, tape and other protective materials prior to installation...
Check NOTE: If there is a concern with one of the following components and Bezel Diagnostics cannot be accessed, obtain the module part number by referencing the label attached to the module. Inoperative ACM Inoperative (blank or does not power on) display unit (non-touchscreen display or touchscreen display) Inoperative FCIM or radio control panel Inoperative steering w..
Categories
When these locks are set, the rear doors cannot be opened from the inside.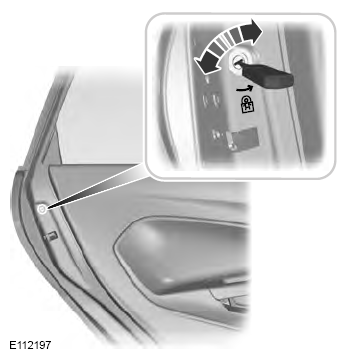 Copyright © 2022 www.fofusion2.com