Ford Fusion: Windows and Mirrors / Exterior Mirrors
Power Exterior Mirrors
WARNING: Do not adjust the mirrors when your vehicle is moving. This could result in the loss of control of your vehicle, serious personal injury or death.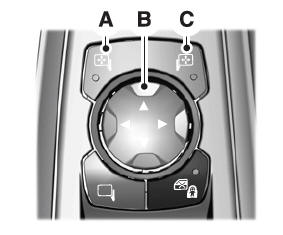 Left-hand mirror.
Adjustment control.
Right-hand mirror.
To adjust a mirror:
Select the mirror you want to adjust. The control will illuminate.
Adjust the position of the mirror.
Press the mirror switch again.
Fold-Away Exterior Mirrors
Push the mirror toward the door window glass. Make sure that you fully engage the mirror in its support when returning it to its original position.
Power-Folding Mirrors (If Equipped)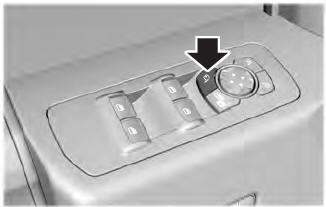 To fold both mirrors, make sure you switch your vehicle on (with the ignition in accessory mode or the engine running) and then:
Press the control to fold the mirrors.
Press the control again to unfold.
Note: Once you press the control, you cannot stop the mirrors midway through their movement. Wait until the mirrors stop moving and press the control again.
Heated Exterior Mirrors (If Equipped)
See Heated Exterior Mirrors.
Memory Mirrors (If Equipped)
You can save and recall the mirror positions through the memory function. See Memory Function.
Auto-Dimming Feature (If Equipped)
The driver exterior mirror automatically dims when the interior auto-dimming mirror turns on.
Signal Indicator Mirrors (If Equipped)
The outer portion of the appropriate mirror housing will blink when you switch on the turn signal.
Puddle Lamps (If Equipped)
The lamps on the bottom part of the mirror housing light when you use your transmitter to unlock the doors or when you open a door.
Blind Spot Monitor (If Equipped)
See Blind Spot Information System.