Ford Fusion: Audio System / Digital Radio (IF EQUIPPED)
Note: HD Radio broadcasts are not available in all markets.
HD Radio technology is the digital evolution of analog AM/FM radio. Your system has a special receiver that allows it to receive digital broadcasts, where available, in addition to the analog broadcasts, it already receives. Digital broadcasts provide a better sound quality than analog broadcasts with free, crystal-clear audio and no static or distortion. For more information, and a guide to available stations and programming, please visit www.hdradio.com.
When HD Radio is on and you tune to a station broadcasting HD Radio technology, you may notice the HD Radio logo on your screen. When this logo is available, you may also see Title and Artist fields on-screen.
The multicast indicator appears in FM mode, only, if the current station is broadcasting multiple digital broadcasts. The highlighted numbers signify available digital channels where new or different content is available. HD1 signifies the main programming status and is available in analog and digital broadcasts. Other multicast stations, HD2 through HD7, are only available digitally.
When HD Radio broadcasts are active, you can access the following functions:
Memory presets allow you to save an active channel as a memory preset. Touch and hold a memory preset slot until the sound returns. There is a brief mute while the radio saves the station. Sound returns when finished. When switching to an HD2 or HD3 memory preset, the sound mutes before the digital audio plays, because the system has to reacquire the digital signal.
Note: As with any saved radio station, you cannot access the saved station if your vehicle is outside the station's reception area.
HD Radio Reception and Station Troubleshooting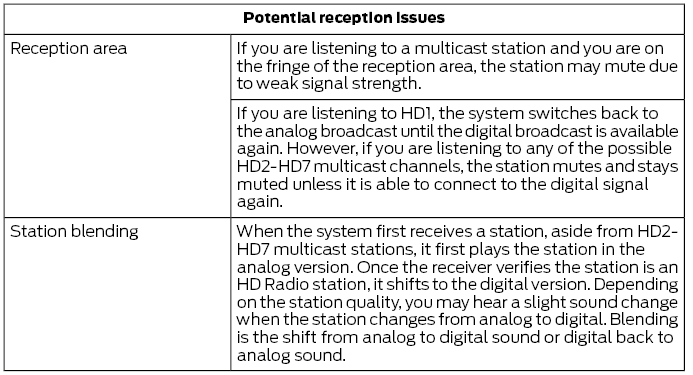 In order to provide the best possible experience, use the contact form to report any station issues found while listening to a station broadcasting with HD Radio technology. Independent entities own and operate each station. These stations are responsible for the accuracy of all audio streams and data fields.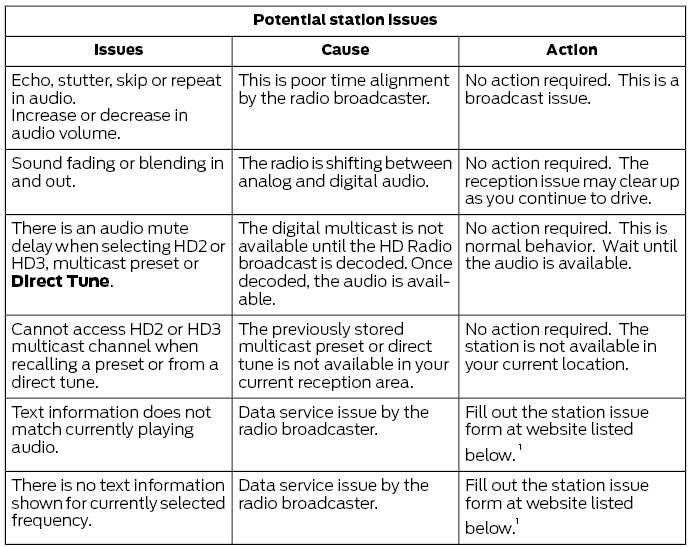 1 http://hdradio.com/stations/feedback
HD Radio Technology manufactured under license from iBiquity Digital Corporation and foreign patents. HD Radio and the HD and HD Radio logos are proprietary trademarks of DTS Ford Motor Company and DTS are not responsible for the content sent using HD Radio technology. Content may be changed, added or deleted at any time at the station owner's discretion.
WARNING: Driving while distracted can result in loss of vehicle control, crash and injury. We strongly recommend that you use extreme caution when using any device that may take your focus off the road...
SiriusXM® Satellite Radio broadcasts a variety of music, news, sports, weather, traffic and entertainment satellite radio channels. For more information and a complete list of SiriusXM satellite radio channels, visit www...
Other information:
This system helps you control many features using voice commands. This allows you to keep your hands on the wheel and focus on what is around you. Initiating a Voice Session Press the voice button. A list of available voice commands appears in the display...
Overdrive (O/D) (4, 5, 6) Clutch Exploded View Item Description 1 Direct/overdrive clutch hub assembly 2 Overdrive clutch piston inner seal 3 Input shaft 4 Overdrive clutch piston outer seals 5 Overdrive clutch piston 6 Overdrive clutch piston return spring 7 ..